SEP 6 PROFESSOR LEWIS GLINERT WILL SPEAK AT SHACHARIT AND AT SEUDAT SHLISHIT
SEP 6 PROFESSOR LEWIS GLINERT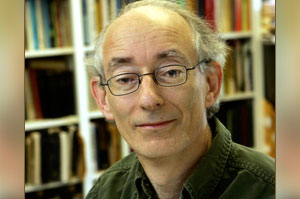 Rabbi Dr. Lewis Glinert is Professor of Hebrew Studies and Linguistics at Dartmouth College.
British by upbringing and a scion of the Chajes dynasty of scholars, Lewis Glinert is a graduate of Magdalen College, Oxford and yeshivat Netzach Yisrael, Jerusalem, holds a Ph.D. in linguistics from London University, and has semicha from Rav Dan Channen (Israel), head of Pirchei Shoshanim Torah Network.

Lewis Glinert has held appointments at Haifa and Bar-Ilan universities, the University of Chicago, and as Professor of Jewish Language and Culture at London University, where he chaired the Centre for Jewish Studies until moving to the US in 1997. His courses at Dartmouth College include 'Midrash', 'Jewish Humor', 'Hasidic Tales', and 'Film, Fiction and the Arab-Israel Conflict.'

Among his books are "The Grammar of Modern Hebrew" (Cambridge University Press), the best-selling "The Joys of Hebrew" (Oxford University Press), 'Hebrew in Ashkenaz' and 'Mamme Dear', an introduction to the lost art of writing Yiddish letters that was a Jewish Book Club main selection in 1997. He has published many scholarly articles in the field of Jewish literature and culture. Invited by the BBC to script and present a documentary marking 100 years since the Rebirth of Spoken Hebrew, Glinert's "Tongue of Tongues" was a BBC 1992 nomination for a SONY award. Another of his BBC documentaries is "Golem! The Making of a Modern Myth".

As an Oxford undergraduate, Lewis Glinert worked closely with the Chabad Movement, and was sent by the Jewish Agency to teach in the USSR. An experienced baal tefillah and Hebrew folk singer, he is cultural director of the Dartmouth Jewish Sound Archive (www.dartmouth.edu/~djsa), the largest Jewish musical resource on the Internet. He and his family reside in Newton, MA.
Fri, June 9 2023 20 Sivan 5783